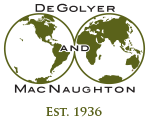 Worldwide Petroleum Consulting

Igor P. Moskvin
Igor P. Moskvin joined DeGolyer and MacNaughton in 2005 as a petroleum engineer with significant experience studying Russian fields, having worked for one of Russia's largest oil and gas production companies.
Moskvin graduated from the Tomsk Polytechnic University as a petroleum engineer in 2002. In 2003, he received a master's degree in petroleum engineering from Heriot-Watt University in Edinburgh, United Kingdom. Moskvin is a member of the Society of Petroleum Engineers and the Society of Petroleum Evaluation Engineers. A registered professional engineer in Texas, Moskvin became a Vice President of D&M in 2013. His native language is Russian and he is fluent in English.
Geographical Experience
Azerbaijan
Brazil
Kuwait
Kazakhstan
Russia
Trinidad and Tobago
Ukraine
Topical Areas of Expertise
Estimation of hydrocarbon reserves under PRMS, SEC, and Russian classification guidelines
Integrated reservoir studies
Reserves upgrade studies
3–D geocellular and reservoir simulation modeling (black oil, compositional, and thermal)
Material-balance estimation
Waterflood design and evaluation
Probabilistic estimation of in-place volumes
Carbonates
Enhanced oil recovery
CO2 floods and steamflood
Heavy oil
Major Projects
Moskvin has coordinated a countrywide evaluation of long-term recovery potential in Kuwait. Primary responsibilities included management of the work progress on geological and engineering analyses and integration of the results obtained from seismic evaluation, geological interpretation, petrophysics, fluid contacts interpretation, routine core analysis, special core analysis, and fluid properties estimation into the regional probabilistic geocellular models used in hydrocarbon estimation for selected reservoirs. Moskvin constructed a probabilistic model and estimated in-place hydrocarbon volumes for the largest sandstone reservoir in the world. Under this project, he also coordinated assessment of the recoverable volumes and built representative reservoir simulation models that were used to estimate long-term recovery under depletion, waterflood, and miscible flood (CO2 and hydrocarbon gas injection) recovery methods.
For a giant heavy oil unconsolidated sandstone reservoir in Russia, he coordinated and took part in potential development options and recovery estimation. Considered development options included depletion, waterflood, hot waterflood, steamflood, polymer flood, and surfactant-polymer flood recovery.
He has conducted annual updates of the SEC and PRMS reserves estimations encompassing 88 fields for two key subsidiaries of a major Russian oil and gas company.
Moskvin recently coordinated a storage site screening study for a potential carbon capture storage (CCS) project in a producing gas-condensate field.