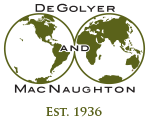 Worldwide Petroleum Consulting

Olga N. Moskvina
Olga N. Moskvina joined DeGolyer and MacNaughton in 2007 working with the firm's Moscow office. Before joining D&M, Moskvina was employed as petroleum geologist by LTD Vend-Geo, a small Russian oil and gas exploration company.
Moskvina graduated with honors in 2005 from Moscow State University with a master's degree in geological sciences. She is a member of the American Association of Petroleum Geologists and is an AAPG-certified petroleum geologist. Moskvina is fluent in Russian and English and has a basic knowledge of German.
Geographical Experience
Angola
Azerbaijan
Egypt
Kazakhstan
Nigeria
Norway
Pakistan
Russia
Serbia
Turkmenistan
Ukraine
United Arab Emirates
United Kingdom
Uzbekistan
Topical Areas of Expertise
Geological mapping
Petrophysical and seismic data analysis
Estimation of in-place hydrocarbon volumes
Reserves evaluation and classification
Analysis of subsurface geological data at the basin and reservoir levels

Major Projects
She is involved in geologic modeling, reservoir description, and annual updates of reserves estimations for oil and gas companies in Europe, Africa, the Middle East, Russia, and the Commonwealth of Independent States. Her primary focus has been geologic evaluation, estimation, and classification of in-place hydrocarbon volumes for estimating reserves. She is proficient in the use of Petrel for creating geologic models.
When she joined D&M in 2007 as head of the data collection group in Moscow, her main responsibilities were collection and organization of the data for reserves evaluation, working with clients on data requests, and performing additional geological evaluation tasks. Moskvina has also been involved in resources evaluations using the probabilistic approach.