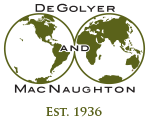 Worldwide Petroleum Consulting

German H. Moss
German Horacio Moss joined DeGolyer and MacNaughton in 2014 to work on reserves estimation in the Asia-Pacific Latin America division. Prior to joining D&M, Moss worked as a Completion Engineer with Petra Energía, a Brazilian independent oil and gas company. He also worked for Apache, Petrobras, and Occidental Petroleum in Argentina.
Moss graduated from Buenos Aires Institute of Technology (ITBA) in 2006, where he received his degree in Petroleum Engineering. In 2017, he was awarded with a Postgraduate Diploma in Petroleum Engineering from Heriot Watt University. He has been member of the Society of Petroleum Engineers since 2005. He is fluent in Spanish, English, and Portuguese. He was named a Vice President of D&M in 2020.
Geographical Experience
Argentina
Brazil
Chile
Colombia
Ecuador
Mexico
Peru
Venezuela
Topical Areas of Expertise
Onshore production operations
Well completion and intervention
Reservoir engineering
Business planning
Production analysis
Tight gas formations
Waterflood optimization
Major Projects
Since arriving at D&M, Moss has carried out reserves evaluations in Argentina, Brazil, Colombia, México, Ecuador, Venezuela, Perú, and Chile using the Security and Exchange Commission (SEC), Petroleum Resources Management System (PRMS), and the 51-101 guidelines.
With Petra Energia, he had an active role during the planning and execution phases of the completions in the São Francisco Basin, where the company was carrying out an ambitious exploratory campaign targeting unconventional gas reservoirs.
With Apache Corporation, he developed and executed waterflooding optimizations on ongoing projects and prepared an investment opportunity portfolio of new waterflooding and EOR projects for the company. He also performed as Completion and Production Engineer for the tight gas development in the Estación Fernandez Oro field, which was Apache's largest asset on production in Argentina.
With Petrobras and Occidental Petroleum, he had an active role as field operations and production engineering in the Neuquen and Golfo San Jorge Basin, the two most prolific basins in Argentina.