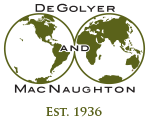 Worldwide Petroleum Consulting

Grigoriy Perov
Since joining DeGolyer and MacNaughton in 2019, Grigoriy Perov has been involved in reserves evaluations in Azerbaijan, Russia, Ukraine, and Uzbekistan. He has 10 years of experience estimating reserves, building static reservoir models, and evaluating prospective resources in petroleum provinces worldwide.
Grigoriy earned his bachelor's degree in geology and petrophysics from Azerbaijan State Oil Academy in 2006, and a master's degree in geology from the University of Houston in 2009. He is a member and a published author with the American Association of Petroleum Geologists. He is a native Russian language speaker and has coordinated multiple cross-cultural technical seminars and workshops in Russia. He has effectively presented his work to senior management, partner companies, and industry conventions. He became a Vice President of D&M in 2021.
Geographical Experience
Algeria
Azerbaijan
Brazil
Canada
Guyana
Ireland
Mauritania
Morocco
Russia
Senegal
Ukraine
United Kingdom
United States
Uzbekistan

Topical Areas of Expertise
Reserves evaluation
Static reservoir construction/modeling
Prospective resources analyses
Risk assessment
Seismic interpretation

Major Projects
Grigoriy has estimated reserves and built multiple reservoir models for fields in the Volga-Urals Basin of Russia.
He recently worked as the lead exploration and operations geologist for one of the major discoveries in offshore Guyana. He has estimated probabilistic volumes and geologic risk factors for more than 100 prospects in numerous deepwater plays worldwide, including the deepwater Gulf of Mexico, Guyana-Suriname, Surgipe, Newfoundland, Porcupine, and MSGBC Basins.