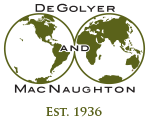 Worldwide Petroleum Consulting

Zach T. Quintanilla
Zach T. Quintanilla joined DeGolyer and MacNaughton in 2023 as a petroleum engineer for the North America Division. Prior to joining D&M, he worked as a Completions Engineering Data Analyst at Corva and as a Field Engineer – Completions for Halliburton.
Quintanilla received a bachelor's degree in 2017 and a master's degree in 2021 in petroleum engineering from the University of Texas at Austin. He is a member of the Society of Petroleum Engineers.
Geographical Experience
Topical Areas of Expertise
Unconventional resources
Technical computing
Reserves and resources evaluation
Major Projects
While working at Halliburton, Quintanilla was a leader in deploying new operational technologies. He implemented a new standard of work for a new sand delivery system and an experimental workflow to optimize chemical selection and concentration for a client's fracture fluid treatment.
Quintanilla's graduate research consisted of designing and implementing an experimental method to compare huff-and-puff treatments in unconventional reservoirs.