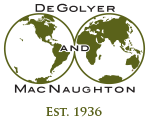 Worldwide Petroleum Consulting

Nathan Reish
Nathaniel E. Reish joined DeGolyer and MacNaughton in 2021 as a senior geologist in the Reservoir Studies Division. Prior to joining D&M, Reish worked at ExxonMobil, Rincon Energy, LLC, and California Resources Corporation (formerly Occidental Petroleum).
Reish earned a bachelor's degree in geology with a special emphasis in engineering in 1998 and a master's degree in geological sciences in 2000 from San Diego State University. He is a member of the American Association of Petroleum Geologists.
Geographical Experience
Colombia
Kuwait
Mexico
Oman
Qatar
Trinidad
United States
Topical Areas of Expertise
Seismic interpretation
Subsurface geological mapping
Stratigraphic interpretation
Structural interpretation
2–D and 3–D reservoir modeling
Reservoir characterization
Geostatistics
Field development planning
Reservoir volumes and reserves
Major Projects
Reish has over 20 years of experience with subsurface mapping, geocellular modeling of complex structures, and detailed stratigraphic frameworks in a range of lithologies and depositional environments. He has regularly used these interpretations and models for development planning, reservoir simulation studies, resource volume estimates, and prospect evaluations.
Before joining D&M, Reish spent 14 years with California Resources Corporation in several roles. He was the primary geologic modeler and internal consultant responsible for reservoir characterization and simulation studies associated with the Elk Hills oil field as well as other California clastic and shale reservoirs. Reish was the chief geologist for California Resources Corporation and responsible for the technical competency of other geoscientists and quality across assets. He worked closely with individuals and integrated teams of geoscientists and engineers to advance the reservoir characterization of their fields through development, reserves, and life of field planning.