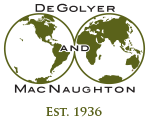 Worldwide Petroleum Consulting

Christian Reyes
Christian T. Reyes joined DeGolyer and MacNaughton in 2021 as an Engineering Technician and in 2023 was promoted to Associate Engineer for the Asia-Pacific Latin America division. Prior to joining D&M, Reyes worked as a field engineer for Halliburton Energy Services. Reyes has experience in the estimation of reserves based on the requirements of the United States Securities and Exchange Commission, the Petroleum Resources Management System, and Canadian National Instrument 51–101.
Reyes graduated from the University of Oklahoma in 2019 and received a bachelor's degree in petroleum engineering and a minor in computer science. He is also a member of the Society of Petroleum Engineers.
Geographical Experience
Argentina
Brazil
China
Colombia
India
Indonesia
Iraq
Malaysia
Mexico
Pakistan
United States 
Topical Areas of Expertise
Reserves and resources evaluations
Production forecasting
Well performance analysis
Material-balance calculations
Database management
Spotfire and Microsoft Power BI Dashboard design
C++, Java, Python, Scheme, Visual Basic Programming
Microsoft Office Specialist
Major Projects
Reyes has provided engineering and economics support for reserves evaluations, acquisitions, and other types of projects. He has worked extensively with engineers and geologists to manage production databases and is proficient in ARIES, PHDWin, and Value Navigator. He is knowledgeable in MBAL, Petrel, and other petroleum engineering software.
For Halliburton Energy Services, Reyes was in the Production Enhancement product service line and was responsible for technical and operational support to external customers, which included well stimulation techniques, pre-planning, job execution, post-job analysis, testing downhole fluids, rigging hydraulic fracturing jobsites, and performing maintenance on high-pressure pumps and other equipment.