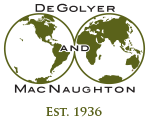 Worldwide Petroleum Consulting

Theodore L. Royer
Theodore L. Royer joined DeGolyer and MacNaughton in 2013 as a specialist in structural interpretation of seismic data along with generating and analyzing seismic attributes and inversions. He has developed expertise on reservoir characterization through the combination of geophysical, geological, petrophysical, and engineering data.
Royer earned his bachelor's degree in geophysical engineering from the Colorado School of Mines in the U.S.A. in 2001. He also received a master's degree in geophysics from the Colorado School of Mines in 2004. He is a member of the Society of Exploration Geophysicists (SEG) and the European Association of Geoscientists & Engineers (EAGE), and has contributed technical papers to several petroleum industry journals and made presentations on a variety of subjects at geophysical and EAGE conferences. He is fluent in English and is proficient in French. He was named a Vice President of D&M in 2019.
Geographical Experience
Algeria
Canada
China
Eastern Mediterranean Sea
Gulf of Mexico
Kazakhstan
Libya
Morocco
North Sea
Russia
Saudi Arabia
South Korea
Tunisia
United States

Topical Areas of Expertise
Seismic interpretation
Seismic inversion and analysis
Geocellular modeling
Unconventional resources

Major Projects
Since he joined D&M, Royer has worked in multidisciplinary projects as a geophysicist for oil and gas fields in Russia, Alaska, Algeria, and South Korea. He is actively involved in reservoir characterization in conjunction with other team members to determine well locations for both exploratory and field development targets, having expertise in interpretation and seismic analysis of hydrocarbon reservoirs, with most of his recent projects involving major plays in Russia.