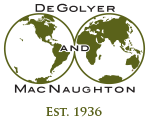 Worldwide Petroleum Consulting

K. Kutsal Sertsoz
K. Kutsal Sertsoz joined DeGolyer and MacNaughton in 2000 as a specialist in relational database management systems. He is experienced in SQL programming and reporting using a variety of different reporting tools and has programmed CNC machines and industrial robots. He works with D&M's engineers and economists using his data manipulation and analysis skills to develop solutions for improving the efficiency of data flow among different programs as well as databases and economic models.
Sertsoz has helped build economic analysis models for reserves evaluations of fields in Algeria, Latin America, and North America and has worked extensively on Russian models and reports. He developed a database solution for D&M's need for international as well as domestic projects following guidelines of the U.S. Securities and Exchange Commission, the Petroleum Resources Management System, and the London Stock Exchange. He has worked extensively with PHDWin and economic and decline-curve software to handle North American, Canadian, and international databases and has developed applications to publish DeGolyer and MacNaughton reports out of PHDWin.
In 2012, D&M partnered with Kappa, a petroleum engineering software company, to collaborate in the development of Citrine, a field performance analysis software platform.  Sertsoz has been a member of the team designing and developing Citrine.
Prior to joining D&M, from 1998 to 2000 Sertsoz worked for Amercable, a specialty cable manufacturing plant, as a developer of cable design and economic analysis solutions. As a mechanical engineer, he worked at Federal Mogul Turkey from 1992 to 1994 specializing in CNC machines and programming industrial robots.
In 1990, Sertsoz graduated with a bachelor's degree in mechanical engineering from Istanbul Technical University. In 1997, he graduated with a Bachelor of Science from the University of Southern Mississippi. Sertsoz is fluent in Turkish and English. He is a member of the Society of Petroleum Engineers. Sertsoz became a Vice President of D&M in 2014.