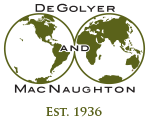 Worldwide Petroleum Consulting

Ravi Sharma
Ravi Sharma joined DeGolyer and MacNaughton in 2022 as a senior engineer in the firm's Reservoir Studies Division, specializing in reservoir modeling studies using classical reservoir engineering methods and reservoir simulations to evaluate oil and gas production performance. Prior to joining D&M, he worked for 19 years as a senior reservoir engineer at PetroTel in Plano, Texas.
Sharma received a bachelor's degree in mining engineering from the Indian Institute of Technology (IIT) in 2000. He earned a master's degree in petroleum engineering in 2003 from the University of Texas at Austin. He is a member of the Society of Petroleum Engineers.
Geographical Experience
Bahrain
India
Kurdistan
Malaysia
Oman
Russia
Saudi Arabia
United States

Topical Areas of Expertise
Eclipse 100/300, CMG-GEM, CMG-IMEX, VIP
Production optimization and development strategies for oil and gas fields
EOR studies with immiscible and miscible gas injection including CO2 WAG
Steam huff and puff and continuous steam flooding optimization
Recovery mechanisms in naturally fractured reservoirs
Gas-condensate well deliverability and productivity issues

Major Projects
Sharma performed a carbon dioxide water-alternating gas injection study for a mature oil field in California. He built a compositional model for history-matching the pilot data. He used k-mean clustering algorithm to divide hundreds of five-spot patterns into a set of clusters based on several reservoir parameters. He generated carbon dioxide water-alternating gas injection type curves for the representative patterns to estimate the full-field performance using upscaling methods.
In Kurdistan, Sharma led the reservoir modeling studies for an oil field with several naturally fractured carbonate reservoirs. He supervised PVT, PLT, well tests, interference tests, and SCAL data analysis used for building the dynamic model. He supervised the development of a discrete fracture network model and the geocellular model and worked on history-matching the well-test and production data. He prepared a field development plan that utilized waterflooding as the recovery mechanism. He also performed a reservoir study to evaluate the feasibility of SAGD in one of the shallow, heavy oil reservoirs.
Sharma conducted a simulation study for a large gas-condensate field in North Slope, Alaska to maximize condensate production through gas cycling. He performed detailed SCAL and well-test data analysis needed for the model. He performed a mechanistic modeling study to accurately predict gas breakthrough and calibrate the full-field model. He prepared field development plans for several development scenarios, including gas blowdown and gas cycling. He also studied waterflooding and carbon dioxide injection as development options for the oil rim.