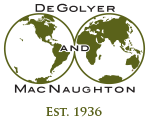 Worldwide Petroleum Consulting

Azat N. Shaymardanov
Azat N. Shaymardanov joined DeGolyer and MacNaughton in 2012 specializing in reserves estimation. Before joining D&M, Shaymardanov gained experience in the evaluation of reserves, reservoir simulation, PVT, and enhanced oil recovery at All-Russian Research Institute VNIIneft, Rosneft, and OMV.
Shaymardanov graduated from Ufa State Petroleum Technological University as a petroleum engineer in 2007. In 2009, he received a master's degree in petroleum engineering from Norwegian University of Science and Technology at Trondheim, Norway. He is a member of the Society of Petroleum Engineers. He is a registered professional engineer in the State of Texas. He was made a Vice President of D&M in 2023.
Geographic Experience
Azerbaijan
Kazakhstan
Russia
Serbia
Ukraine
Uzbekistan
Topical Areas of Expertise
Reserves estimation
Competent Person's Reports
Gas deliverability modeling
Material-balance analysis
Production forecasting
Waterflood analysis
Major Projects
Shaymardanov has carried out reserves estimations for oil and gas fields in throughout Azerbaijan, Kazakhstan, Russia, Serbia, and Ukraine, including Western Siberia, the Volga-Urals region, Eastern Siberia, Timan-Pechora, Sakhalin, and the Pre-Caspian area. He has experience in gas deliverability modeling used in the evaluation of producing gas fields.