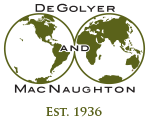 Worldwide Petroleum Consulting

Stephanie D. Suire
Stephanie D. Suire joined DeGolyer and MacNaughton in 2007, specializing in reservoir engineering. Working with exploration and production companies since 1997, Suire is experienced in the evaluation of reserves and project economics in oil and natural gas properties in major producing areas in the United States.
Suire earned a bachelor's degree in petroleum and natural gas engineering from West Virginia University in 1997, where she graduated magna cum laude. A member of the Society of Petroleum Engineers, Suire was elected a Vice President at D&M in 2010.
Geographical Experience
Algeria
Angola
Congo
Denmark
Egypt
Libya
Nigeria
Norway
Romania
Turkey
United States
Topical Areas of Expertise
Material-balance analysis
Volumetric analysis
Performance-trend analysis
Reserves estimation
Capital expenditure forecasting
Infill drilling
Production forecasting
Maturation studies
Major Projects
At D&M, Suire has carried out reserves estimation for oil and gas fields in various countries in northern and western Africa, including Angola, Algeria, Congo, Egypt, Libya, and Nigeria.
She has also estimated reserves on various fields in Romania, Denmark, and Norway.
Suire has completed full-portfolio reviews for sales and purchases, and has managed the reserves certifications for private and national oil companies.