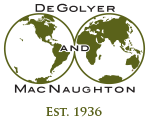 Worldwide Petroleum Consulting

Anagabriela C. Trevino
Anagabriela C. Trevino joined DeGolyer and MacNaughton in 2007 specializing in reserves estimation and certification for petroleum properties worldwide. Prior to joining D&M, Trevino was associated with several independent petroleum production firms. Trevino has extensive experience in the estimation of reserves and resources based on the requirements of the United States Securities and Exchange Commission (SEC), the Petroleum Resources Management System (PRMS), and Canadian National Instrument 51-101 (NI 51-101). She has conducted industry seminars on the estimation, classification, and categorization of reserves and resources under the standards and definitions of the SEC and the PRMS.
In 2005, Trevino received a bachelor's degree in petroleum engineering from the University of Oklahoma at Norman. She is a member of the Society of Petroleum Engineers and Chairperson of the scholarship committee of the Dallas Chapter. She is fluent in Spanish and English and is knowledgeable in Italian. She was elected a Vice President of D&M in 2015.
Geographical Experience
Australia
Brazil
Canada
China
Colombia
India
Iran
Mexico
Pakistan
Peru
United States
Venezuela
Vietnam
Topical Areas of Expertise
Enhanced oil recovery methodologies
Fair market appraisals
Field development studies
Material-balance calculations
Pressure maintenance
Production analysis
Prospect economics
Secondary recovery techniques
Volumetric estimations
Well economics
Wellbore analysis
Waterflooding
 Major Projects
In 2019, Trevino coordinated a multidisciplinary group to assist a joint venture opportunity to evaluate unconventional resources in the Midland Basin in Texas, United States. She has evaluated the potential of certain fields for acquisition and divestiture projects in South America. In 2014, she assisted in the development of a matrix structure to assess and rank exploration areas in Mexico for the National Hydrocarbon Commission.
Trevino has coordinated global reserves and resources evaluation projects and has been responsible for the engineering aspects of oil and gas field analysis and reserves estimation onshore and offshore Australia, Colombia, México, Venezuela, Vietnam, and others. Trevino has extensive experience managing large work programs and acting as the lead reservoir engineer in the evaluations of a large percentage of the oil and gas fields for various clients throughout Colombia. She has evaluated reserves and contingent resources for a variety of oil and gas reservoirs in Colombia, including many under secondary recovery operations, and she has been involved in enhanced oil recovery evaluations for heavy oil projects in the Orinoco belt in Venezuela. For these projects, she was also responsible for integrating petrophysical, geological, and economics information with engineering data to estimate the reserves and/or resources of specific fields or projects.