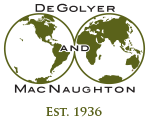 Worldwide Petroleum Consulting

Eugene W. Tuchman
Eugene "Zach" Tuchman joined DeGolyer and MacNaughton in 2010 as a petroleum economist. He is an expert in economic modeling techniques with particular emphasis on asset valuation models.
Tuchman graduated from the Kelley School of Business at Indiana University in 2010 with a bachelor's degree, with concentrations in economic consulting, public policy analysis, and international business. In 2016, he received a master's degree in finance and a M.B.A degree in business management from Indiana University. He is proficient in Russian and Spanish. Tuchman is a member of the Society of Petroleum Engineers and the International Association for Energy Economics. He became a Vice President of D&M in 2021.
Geographical Experience
Albania
Algeria
Angola
Azerbaijan
Colombia
Congo
Croatia
Egypt
Gabon
Iraq
Italy
Kazakhstan
Libya
Nigeria
Oman
Pakistan
Romania
Russia
Serbia
Tunisia
Turkey
Turkmenistan
Ukraine
United Arab Emirates
United Kingdom
Venezuela
Vietnam
Topical Areas of Expertise
Economic viability of oil and gas field development plans
Economic modeling
Cash flow analysis
Asset valuation
Production sharing agreements
International fiscal systems
Major Projects
Tuchman performs the majority of his appraisals for major Russian petroleum companies and their subsidiaries. His work with these companies includes close analyses of Russian oil and gas law, markets and product sales arrangements, and company operations. On projects in other areas of the world, Tuchman analyzes the revenues that are negotiated through concession systems, production sharing agreements, and service contracts.
Economic evaluations performed by Tuchman have been used by clients to negotiate acquisitions and divestitures, to secure development capital from financial institutions, and internally for asset management and project prioritization. He has collaborated with multidisciplinary client teams internationally to build comprehensive economic models for these purposes and to support other specific analyses.