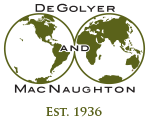 Worldwide Petroleum Consulting

Lucas Viglione
Lucas Viglione joined DeGolyer and MacNaughton in 2015 and serves as a senior engineer with the firm's Asia-Pacific-Latin America Division. Prior to joining D&M, he worked for Chevron Argentina for almost 10 years as a reservoir and field production engineer.
Viglione graduated with honors from the Buenos Aires Institute of Technology (ITBA) in 2006, where he received his degree in petroleum engineering with a merit scholarship from Chevron Argentina. In 2014, he received a master's degree in business administration (MBA) from Universidad del CEMA. His has been member of the Society of Petroleum Engineers since 2005. His native language is Spanish, he is fluent in English, and he speaks Portuguese. He was named a Vice President of D&M in 2020.
Geographical Experience
Argentina
Bolivia
Brazil
Chile
Colombia
Mexico
Peru
United States
Venezuela
Topical Areas of Expertise
Reservoir engineering
Reserves and resources evaluations
Unconventional resources
Waterflooding design and operation
Field development planning
Production engineering
Major Projects
Since his arrival at D&M, Viglione has conducted reserves evaluations for clients in Latin America and the United States using the guidelines of the United States Security and Exchange Commission (SEC) and the Petroleum Resources Management System (PRMS) for both conventional and unconventional reservoirs. He has estimated oil and gas reserves using standard engineering methods such as volumetric calculations, material-balance methods, and production-performance analysis. His experience includes the evaluation and reserves estimation of shale and tight oil and gas fields and he is fluent in the application of Monograph 3 and Monograph 4 of the Society of Petroleum Evaluation Engineers (SPEE).
Viglione is the lead instructor for the Reserves and Resources course at the Petroleum Engineering School of the ITBA university in Buenos Aires, Argentina. This course is sponsored by D&M.