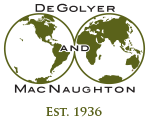 Worldwide Petroleum Consulting

Dr. Peng Wang
Peng Wang joined DeGolyer and MacNaughton in July 2000, bringing a strong professional background in gas and chemical EOR processes and reservoir studies. He has written or co-authored many papers for journals and presentations for the oil and gas industry.
Wang earned a bachelor's degree in chemical engineering from Tsinghua University in Beijing in 1984, a master's degree in petroleum engineering from the University of Petroleum in Beijing in 1987, and a doctorate degree in chemical engineering from the Technical University of Denmark in 1993. Wang is a member of the Society of Petroleum Engineers and serves as technical editor for the journal SPE Reservoir Evaluation & Engineering. He was named Executive Vice President of D&M in 2022.
Geographical Experience
Algeria
Australia
China
Ghana
Indonesia
Kuwait
Libya
North Sea
Russia
Saudi Arabia
United States
Topical Areas of Expertise
Integrated reservoir studies including naturally fractured reservoirs
EOR processes such as miscible gas, water-alternating-gas (WAG), and chemical EOR
Gas cycling of gas-condensate reservoirs
Waterflood performance evaluation and pattern configuration
Reservoir simulation and phase behavior of petroleum fluids
Reserves estimations following SEC and PRMS guidelines
Major Projects
Wang worked on PVT for petroleum fluids and studied the equation-of-state (EOS) description of petroleum fluids. As the leader of a phase behavior project at Elf GRC in London, he was responsible for the development, implementation, and application for reservoir simulation studies.
As a co-principal investigator at the University of Texas at Austin, he conducted research on the effects and remediation of oil banks on gas-condensate well deliverability, carbon dioxide (CO2) flood, miscible WAG process efficiency for oil fields, CO2 disposal into deep saline aquifers, and development of EOS compositional and black-oil simulators for parallel computers.
Wang manages many integrated field study projects, including waterflood performance evaluation and improvement, miscible WAG, and chemical EOR. He worked on the design of field WAG pilots, chemical EOR pilots, and partial- and full-field simulations of miscible or near-miscible WAG and chemical EOR projects. He also performed simulation studies on a giant gas-condensate reservoir with a surface pipeline network.
As a reservoir engineering advisor, Wang is currently responsible for several gas and chemical EOR and reservoir simulation projects. He recently managed a gas (CO2 and hydrocarbon gas), WAG, and chemical EOR project in Kuwait.