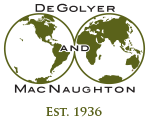 Worldwide Petroleum Consulting

Aydynbek K. Ydyryshev
Aidynbek Ydyryshev joined DeGolyer and MacNaughton in 2016 and serves as Deputy Branch Director on Strategic Planning in Kazakhstan. Prior to joining DeGolyer and MacNaughton, his experience came mostly from his work in various oil and gas fields with the national companies of Kazakhstan.
In 1994, Ydyryshev received a degree in mechanical engineering from Kazan State Technical University in the Russian Federation. In 2001, he graduated from KIMEP University in the city of Almaty and received an MBA in finance and accounting. He became a Certified Financial Manager credentialed by the International City/County Management Association (ICMA) in the United States in 2006.
Geographical Experience
Topical Areas of Expertise
Reserves estimation
Coordination of long-term field development plans
Long-term strategic planning
Business process optimization
Performance management
On-site oil and gas mechanical engineering

Major Projects
For D&M, Ydyryshev assisted with the creation of the Kazakhstan branch office and business development. He has assisted with developing D&M's capabilities for the provision of technical expertise in Kazakhstan. He has worked on reserves audits for KazMunaiGas, the national oil and gas company of Kazakhstan, and its subsidiaries and other private companies in Kazakhstan. He has performed economic assessments of resources and reserves, evaluated operating costs, and developed economic models.