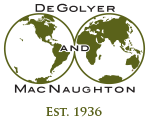 Worldwide Petroleum Consulting

Nima H. Zonoozi
Nima Zonoozi joined DeGolyer and MacNaughton in 2012, having worked previously for Schlumberger Data and Consulting Services.
Zonoozi earned a bachelor's degree in petroleum engineering from Petroleum University of Technology (Ahwaz, Iran) in 2002. From Texas A&M University, he received a master's degree in petroleum engineering in 2006. Zonoozi is a member of the Society of Petroleum Engineers and the Society of Petrophysicists and Well Log Analysts. He was made a Vice President of D&M in 2015. 
Geographical Experience
Argentina
Algeria
Australia
Bahrain
Brazil
Canada
Chile
China
Colombia
Great Britain
Kuwait
Mexico
Poland
Republic of Congo
Russia
Saudi Arabia
Tunisia
United States
Topical Areas of Expertise
Petrophysics
Wellbore geomechanics
Formation evaluation
Unconventional resources
Well completion design
Wellsite operations
Hydraulic fracture simulation
Well performance analysis
Major Projects
At D&M, Zonoozi specializes in assisting clients with well completion design and well evaluations based on interpretation of logs, core data, and test results with a focus on unconventional reservoirs. Recent work has included petrophysics and geomechanics evaluation in major tight gas, tight oil, shale gas, and shale oil plays in North America (Barnett, Eagle Ford, Deep Bossier, Haynesville, Marcellus, Montney, Avalon, Wolfcamp, and Woodford), Asia, South America, the Middle East, Europe, and Australia. Zonoozi's work significantly aids in the design of hydraulic fracture and the selection of horizontal well landing points, wellbore stability analysis, and hydraulic fracturing modeling and simulation. As a geomechanics expert, Zonoozi has led the development of three-dimensional Mechanical Earth Models (MEM) for various projects. In addition to formation valuation, Zonoozi also analyzes well performance using production-analysis methods to evaluate dynamic reservoir properties. Zonoozi regularly teaches formation valuation short courses focusing on unconventional resources for various D&M clients.
As a wireline field engineer with Schlumberger, Zonoozi became familiar with open-hole well logging and troubleshooting to ensure log quality control. He then transferred to Schlumberger Data and Consulting Services as a petrophysicist in 2007 and performed well-log interpretation and analysis. In addition, Zonoozi has taught Schlumberger internal short courses in wireline acoustic tools and wellbore geomechanics in conventional and unconventional reservoirs.