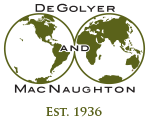 Worldwide Petroleum Consulting

Steven Zotto
Steven C. Zotto joined DeGolyer and MacNaughton in 2020 as a geologist in the Central Europe Asia Division. Prior to joining D&M full time, he interned at D&M, working in the Reservoir Studies Division and the Central Europe Asia Division.
Zotto earned his bachelor's degree in geology from Oklahoma State University in 2016 and his master's degree in geology from the University of Kentucky in 2019. He is a member of the American Association of Petroleum Geologists, in which he served as student chapter president at the University of Kentucky. He is also a member of the Dallas Geological Society. 
Geographical Experience
Ghana
Kazakhstan
Kuwait
Russia
Ukraine
United States

Topical Areas of Expertise
Reservoir characterization
Reserves evaluation
Prospective resources analysis
Petrophysical analysis
Seismic interpretation

Major Projects
At D&M, Zotto's work includes seismic interpretation, probabilistic volume estimation, geologic risk assessment, and exploration portfolio optimization of prospective resources in the Timan-Pechora Basin in Russia and unconventional basin modeling in Kuwait. Additionally, he has experience in petrophysical log analysis and the evaluation of oil and gas reserves in countries such as Kazakhstan, Russia, and Ukraine. He is skilled in various geoscience software tools including Petrel, Trinity, and Techlog.