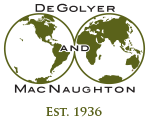 Consultoría Mundial de Petróleo y Gas

Gazprom Neft improves efficiency in developing the Priobskoye field together with D&M Corp
junio 1, 2018
As one of the leading independent consulting firm focused on the petroleum industry, DeGolyer and MacNaughton provides unbiased and informed answers to clients worldwide. D&M skilfully blends energy economics, engineering, and the earth sciences to help clients in more than 100 countries make the smartest decisions regarding exploration, recovery, and management of oil and gas resources.
The firm's services include resources assessments, reserves consulting, reservoir modelling, geologic and petrophysical analyses, development planning, guidance with financial reporting issues, and financial forecasting for petroleum discoveries. DeGolyer and MacNaughton has the largest, most experienced team of professional reservoir consultants in the industry. D&M has built up extensive international experience in independent reserves assessments, the results of which are frequently used in certifying projects for presentation to financial institutions worldwide.
Gazprom Neft is a vertically integrated oil company, primarily involved in oil and gas exploration and production, refining, and the production and sale of oil products. The Gazprom Neft's corporate structure comprises more than 70 production, refining and sales subsidiaries throughout Russia, the CIS, and abroad.
The company's proved and probable reserves (SPE-PRMS) are estimated at 2.78 billion tonnes of oil equivalent (btoe), making Gazprom Neft one of the top-20 largest oil and gas companies in the world, and one of Russia's top three largest companies in terms of production and refining volumes. Total production in 2017 reached 89.75 million tonnes of oil equivalent (mtoe), with refining volumes of 40.1 million tonnes.
Gazprom Neft products are exported to more than 50 countries worldwide, and sold throughout the Russian Federation and abroad. The company's filling station network totals more than 1,850 outlets throughout Russia, the CIS and Europe.
Gazprom Neft's net profit in 2017 was RUB253 billion — a 26.5-percent increase year-on-year. The company is an industry market leader in terms of both financial growth and various efficiency metrics, including its internal rate of return (IRR).
The company's main shareholder is Gazprom PJSC, which has a 95.68-percent interest, with the remaining shares in free circulation.
http://www.einnews.com/pr_news/449447502/gazprom-neft-improves-efficiency-in-developing-the-priobskoye-field-together-with-degolyer-and-macnaughton-corp
Previous
|
Next