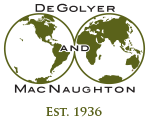 Консультации в нефтегазовой отрасли по всему миру

Gopi Nalla
Gopi Nalla joined DeGolyer and MacNaughton in 2017 as a reservoir and simulation engineer with experience in production. Prior to joining D&M, he worked for 12 years with Chevron and 2 years at the Idaho National Laboratory.
Nalla earned his bachelor's degree from the National Institute of Technology in Trichy, India in 2000. He earned his master's degree in petroleum engineering from the University of Texas in 2002. He is a licensed professional engineer and a member of the Society of Petroleum Engineers. He also holds a Lean Sigma green belt. He is serving as the technical editor for SPE Reservoir Engineering & Evaluation Journal and received the outstanding technical editor award from the SPE Editorial Review Committee. He was named a Vice President of D&M in 2020.
Geographical Experience
Angola
Canada
Indonesia
Kazakhstan
Kuwait
Nigeria
Republic of Congo
United States
Topical Areas of Expertise
Petroleum engineering
Reservoir management
Reservoir simulation
Quality assurance testing
Estimation and forecasting
Major Projects
Prior to joining D&M, Nalla worked many years as senior engineer and managed well injection target rates for a mature heavy oil field with over 600 active water injectors and over 800 active producers. He led water injection optimization lean sigma projects resulting in an estimated savings of $45 million, including revenue from production gains and operating/capital expense savings. He enabled a reduction of the field water injection rate from 230,000 barrels per day to 150,000 barrels per day without impacting oil production. He was in charge of promoting positive safety culture in the field for several major projects.
He created a target zero surface movement workflow that incorporated surface elevation changes into surveillance to optimize the water injection rate. He successfully minimized inefficient water injection by designing a new conceptual model and operationalizing it to address issues with high fluid levels in producers. This improvement resulted in production exceeding the business plan by more than 15 percent.
Nalla led the 83-N project team for a Chevron phase gate subsurface assurance evaluation in less time than predicted and saved many months of project duration. He played a critical role in Kambala, Malange, and South N'Dola projects for Chevron phase gate subsurface technical reviews. He obtained endorsement of the development plans and reservoir simulation-based probabilistic production forecasts by peer review committees at the subsurface assurance reviews.