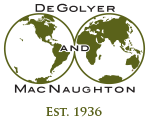 Консультации в нефтегазовой отрасли по всему миру

Zoubeyr Touami
Zoubeyr Touami joined DeGolyer and MacNaughton in 2019 as an associate geophysicist in the Reservoir Studies Division. Touami performs early stage geophysical interpretation and seismic data analysis and provides multi-platform technical support. Prior to joining D&M, Touami interned with the firm during 2018. Prior to that, he worked for Halliburton Energy Services Algeria.
Touami earned his bachelor's degree in geophysical engineering from the Faculty of Hydrocarbon and Chemistry at the University of Boumerdes in Algeria in 2014, and his master's degree in geosciences from the University of Texas at Dallas in 2018. He is a member of the Society of Exploration Geophysicists (SEG), the Dallas Geophysical Society, and the American Association of Petroleum Geologists (AAPG). He is fluent in English, Arabic, and French.
Geographical Experience
Algeria
India
Kuwait
Libya
Nigeria
Russia
Topical Areas of Expertise
Seismic interpretation
Attribute analysis
Geophysical analysis
Major Projects
Since he joined D&M, Touami has worked as a geophysicist in multidisciplinary projects for oil and gas fields in Algeria, Africa, the Middle East, and Russia, including integrated studies involving the development planning of newly discovered fields.