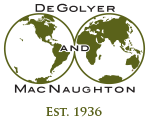 شركة استشارات البترول العالمية

Rex A. Richard
Rex Richard joined DeGolyer and MacNaughton in 2021, specializing in the design, execution, and evaluation of unconventional completions. Prior to joining D&M, Richard worked with Chesapeake Energy and Halliburton.
Richard graduated from the University of Oklahoma with a bachelor's degree in chemical engineering in 2007. He is a member of the Society of Petroleum Engineers.
Geographical Experience
Bahrain
Canada
Oman
Russia
Saudi Arabia
United States

Topical Areas of Expertise
Completion design and analysis
Well site operations
Hydraulic fracture simulation
DFIT analysis
Wellbore integrity evaluation
Field development planning

Major Projects
At D&M, Richard supports the North America Division, focusing on completion evaluation, hydraulic fracture modeling, and DFIT analysis for projects ranging from the Permian Basin to the Middle East.
At Chesapeake, Richard was directly responsible for unconventional well completions and remedial operations in the Eagle Ford, Austin Chalk, and Niobrara Shale plays, and he provided completion analysis and well-testing support for developments in the Haynesville and Marcellus Shales. Major projects at Chesapeake included integrated reservoir studies to aid in field development planning, wellbore integrity investigations to solve casing collapse issues and identify re-fracture candidates, and new technology implementations to enhance safety and improve operational efficiency.
At Halliburton, Richard served as a wellsite engineer for hydraulic fracturing and coil tubing operations in the midcontinental United States, North Dakota, Canada, and Oman. He gained hands-on experience in the Woodford, Barnett, Fayetteville, Haynesville, Bakken, Montney, and Duvernay Shales in North America as well as the Miqrat, Barik, and Amin Formations in Oman.