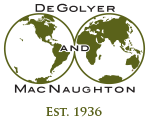 Worldwide Petroleum Consulting

Fidel H. Avelar
Fidel Avelar joined DeGolyer and MacNaughton in 2009. Using his knowledge of computer hardware, networks, and IT system maintenance, Avelar ensures that D&M's computer network is both secure and functional 24×7 in order to meet the needs of its offices around the globe. He is certified in various Microsoft technologies.
Prior to joining D&M, he worked as an IT professional in the entertainment industry in California, working for television, movie, and music companies.
Avelar attended Moorpark College in Moorpark, California, the Universal Computing Institute in Reseda, California, and completed computer network courses at North American Computer Consultants in Glendale, California.