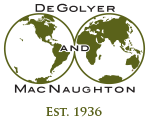 Worldwide Petroleum Consulting

Dr. Kajari Ghosh
Dr. Kajari Ghosh joined DeGolyer and MacNaughton in 2017 as a geologist. Prior to joining D&M, she worked for Harvey Rock Physics, Chevron, and ExxonMobil.
She earned her undergraduate degree from University of Kolkata, India in 1997. She received her master's degree in geology from Florida International University in 2003. In 2009, she earned her doctorate degree in geology from the University of Oklahoma. Ghosh is a certified petroleum geologist and member of the American Association of Petroleum Geologists. She was named a Vice President of D&M in 2020.
Geographical Experience
Algeria
Angola
Argentina
Bahrain
Colombia
India
Kazakhstan
Kurdistan
Kuwait
Libya
Mexico
Russia
United Arab Emirates
United States (Texas and Gulf of Mexico, California)
Topical Areas of Expertise
Seismic interpretation
Reservoir characterization
Volumetric estimation
Unconventional reservoir analysis
Sequence stratigraphy
Structural geology
Fractured reservoir analysis
Carbonate and clastic reservoirs
Major Projects
Ghosh has served as a fractured reservoir specialist for several fields around the globe. Some of her technical accomplishments are: 1) ranking Kurdistan blocks in terms of resources, producibility, and recovery uplift from fractures to assist bidding round, 2) reservoir characterization for static models of the Clair (North Sea) and Tengiz (Kazakhstan) fields with a focus on fracture flow capability, resulting in improved history match and input for designing IOR models for better sweep efficiency, and 3) constructing discrete fracture network models for multiple fields.
Prior to working as a fractured reservoir SME, she worked on various projects that involved 1) crustal-scale seismic interpretation of offshore East India, 2) subsurface characterization of reservoir rocks and static model construction for a heavy oil project in California, and 3) reservoir rock typing of onshore UAE fields by integrating sedimentological, petrophysical, and engineering data. She has served as a development geologist for blocks offshore Angola and as a structural geologist for the Cantarell and Ek Balam fields (Mexico) and for fields in the Gulf of Mexico (United States). The focus of these studies ranged from building static models for field development to evaluating petroleum systems for frontier exploration.