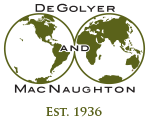 Worldwide Petroleum Consulting

Jason Macikanycz
Jason Macikanycz joined DeGolyer and MacNaughton in 2017 as a Systems Analyst. With over a decade's experience in system administration, he maintains D&M's highly available global network specializing in server-related components and core system platforms.
Prior to joining D&M, Macikanycz worked in renewable energy and banking in Chicago. There, he engineered, administered, and monitored critical mid-sized networks and their infrastructures.
Macikanycz graduated cum laude in 2007 from DeVry University in Addison, Illinois with a bachelor's degree in Network and Communications Management. He is a Microsoft Certified Solutions Associate and a Cisco Certified Network Associate. He was named a Vice President of D&M in 2022.