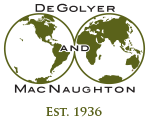 Worldwide Petroleum Consulting

David J. Neat
David Neat joined DeGolyer and MacNaughton in September 2015 as an associate engineer in the North America Division. Prior to joining D&M, Neat participated as a summer engineer with Latshaw Drilling Co. and Laredo Petroleum Inc.
In 2010, Neat graduated with a bachelor's degree in ocean engineering from Texas A&M University. He graduated with a bachelor's degree in petroleum engineering from the University of Oklahoma in May of 2015. He is a member of the Society of Petroleum Engineers. 
Geographical Experience
Australia
Gulf of Mexico
Russia
Saudi Arabia
United States

Topical Areas of Expertise
Unconventional resources
Well performance analysis
Reserves and resources evaluations
Decline-curve analysis
Volumetrics
Major Projects
Neat's work involves evaluating producing wells to determine type curves and recoverable volumes from undeveloped locations. In addition, he has also done well performance evaluation in unconventional reservoirs using production-performance diagnostic techniques. At D&M, Neat has worked extensively with PHDWin and Citrine to assist in his evaluations of reserves.
Recent work has included a number of well performance studies and reserves evaluations of shale oil and gas plays in North America (Bakken, Codell, Eagle Ford, Haynesville, Marcellus, Niobrara, Three Forks, Utica, Wolfcamp, and Woodford).