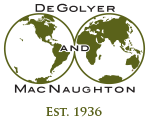 Worldwide Petroleum Consulting

Victor Somerfeld
Victor Somerfeld joined DeGolyer and MacNaughton in 2021 as a geologist, evaluating reserves and original hydrocarbon volumes for the Asia-Pacific/Latin America Division. Prior to joining D&M, Somerfeld worked for Newpek, Apache, Enap Sipetrol, and Petrobras, where he worked as Exploration/Development Geologist for assets in Argentina, Peru, Mexico, and the United States.
Somerfeld obtained a 6-year university degree in geological sciences from the University of Cordoba (UNC), Argentina in 1999. He is fluent in Spanish and English.
Geographical Experience
Argentina
Colombia
Chile
Mexico
Peru
Tunisia
United States
Topical Areas of Expertise
Three-dimensional geocellular reservoir models
Sequence stratigraphic analysis
Reservoir characterization
Seismic interpretation
Uncertainty analysis
Petrophysical log analysis
Shale and tight sand reservoirs
Field development plans
Major Projects
For over 20 years, Somerfeld was part of multidisciplinary teams (geophysicists, geologists, petrophysicists, and engineers) dedicated to the exploration and development of oil and gas fields, reservoir characterization, drilling, and workover proposals in many onshore and offshore blocks in the United States, Mexico, Peru, and Argentina. He worked in the Eagle Ford unconventional project, in the Burgos Basin proposing a development plan with Newpek, in the exploration and development of the Z1 offshore block in Peru, and in exploratory/development projects in several basins in Argentina.