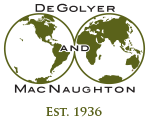 Worldwide Petroleum Consulting

Dr. Xuehao Tan
Xuehao Tan joined DeGolyer and MacNaughton in 2018. Prior to joining D&M, he worked as a senior modeling and simulation engineer with Schlumberger for 6 years. He has co-authored a book and written multiple technical papers for the oil and gas industry.
Tan received a bachelor's degree in engineering mechanics from Tsinghua University in China in 2007. He received a master's degree and a doctorate's degree in 2009 and 2012, respectively, in petroleum engineering from Texas A&M University. Tan is a member of the Society of Petroleum Engineers. He was named a Vice President of D&M in 2022.
Geographical Experience
Algeria
Brazil
Kazakhstan
Mexico
North America
Qatar
Saudi Arabia
Topical Areas of Expertise
Fracturing simulation
Matrix acidizing
Thermal performance of wellbore and formation
Well intervention
Scientific computing
Reservoir simulation
Major Projects
Tan has worked on the modeling and simulation of hydraulic fracturing, matrix acidizing, and thermal behavior in wellbores and formations. He has developed and implemented simulation models to estimate wormhole propagation in formations, along with temperature prediction. He also created CFD models to simulate the viscous fingering behavior during acid fracturing treatments.
Since joining D&M, Tan has been working on an integrated field development planning study, and is mainly responsible for building and running the reservoir simulation model to provide suggestions on the future development of the field.