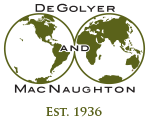 Consultoria Mundial de Petróleo e Gás

Dr. Xuehao Tan
Xuehao Tan joined DeGolyer and MacNaughton in 2018, specializing in the modeling and simulation of matrix acidizing and hydraulic fracturing. Tan possesses strong skills in well stimulation, including both acidizing and fracturing. He has extensive experience in treatment design for well stimulation, and is skilled with integrating these treatments into the reservoir simulation for a comprehensive evaluation.
With DeGolyer and MacNaughton, Tan has worked on the study and modeling of multiple oil and gas reservoirs in the Hassi R'Mel field in Algeria. Among his work in this field, he conducted integrated field development planning, mainly focusing on reservoir simulation studies, including history matching and forecasting for these fields.
Tan is a proficient user of the Schlumberger modeling software, including Petrel, Techlog, and Mangrove. He is also experienced in the use of other commercial simulators, such as Nexus, and multiple reservoir engineering software tools, including OFM and TecPlot. He is also skilled in various programming languages such as Visual Basic, FORTRAN, and C++.
Tan joined the oil and gas industry as a modeling and simulation engineer and specialized in the domain of well stimulation. Prior to joining DeGolyer and MacNaughton, he worked as a senior modeling and simulation engineer with Schlumberger for 6 years. He was responsible for job design and evaluation for many acidizing and fracturing treatments carried out by Schlumberger worldwide. These treatments covered Qatar, Saudi Arabia, Mexico, Brazil, China, Kazakhstan, and North America.
Tan graduated from Tsinghua University in 2007, receiving a Bachelor of Engineering in engineering mechanics. In 2009 and 2012, he received a Master of Science and Doctor of Philosophy, respectively, in petroleum engineering from Texas A&M University. Tan is a member of the Society of Petroleum Engineers.