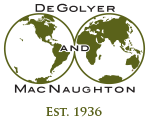 Consultoría Mundial de Petróleo y Gas

Denning Wang
Denning Wang joined DeGolyer and MacNaughton in 2018 as a petroleum engineer in the Reservoir Studies Division. Prior to joining D&M, Wang was a research assistant at The University of Texas at Austin. His primary area of investigation encompassed the study of chemical-enhanced oil recovery methodologies.
Wang received a bachelor's degree in 2016 and a master's degree in 2018 in petroleum engineering from The University of Texas at Austin. Wang is a member of the Society of Petroleum Engineers.
Geographical Experience
Russia
United States
Trinidad and Tobago
Topical Areas of Experience
Chemical-enhanced oil recovery methods
Surfactant formulation
Polymer flooding coreflood experiments
Surfactant-polymer flooding coreflood experiments
Alkali-surfactant-polymer flooding coreflood experiments
Field development planning
Decline-curve analysis
Reserves estimation
Reservoir simulation modeling
Waterflood design and evalaution
PVT analysis
Special core analysis

Major Projects
Since arriving at D&M, Wang has worked on various projects, including field development planning of oil rim reservoirs and conducting history matching and forecasting for various fields in Russia. He conducted a benchmarking analysis to optimize oil rim development for a national oil company in Russia. Production profiles were estimated for several fields based on planned field development. Wang conducted in-depth analyses on various sources of data, including fluid PVT data, SCAL data, and MDT data for several fields in Russia. These data were incorporated into the construction of a geocellular model and reservoir simulation model. Various field development strategies were implemented in the simulation model by forecasting.
Wang worked on streamline surveillance modeling on several fields under waterflood operations in Russia. He evaluated the current waterflood performance and highlighted areas of oil potential. Wang made recommendations to the injector rates to focus water injection to higher performing injector-producer patterns.
He has estimated technically recoverable resources for fields and reservoirs in Trinidad and Tobago. Active wells were forecast individually in each reservoir. Historical well performance was incorporated in the resulting type-curve profiles. Prospect performance was estimated using type curves.