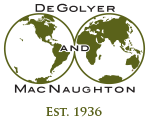 Consulatant mondial de l industrie petroliere

Denning Wang
Denning Wang joined DeGolyer and MacNaughton in 2018 as a petroleum engineer in the Reservoir Studies Division. Prior to joining D&M, Wang was a research assistant at The University of Texas at Austin. His primary area of investigation encompassed the study of chemical-enhanced oil recovery methodologies.
Wang received a bachelor's degree in 2016 and a master's degree in 2018 in petroleum engineering from The University of Texas at Austin. Wang is a member of the Society of Petroleum Engineers and Society of Petrophysicists and Well Log Analysts.
Geographical Experience
Topical Areas of Experience
Chemical-enhanced oil recovery methods
Surfactant formulation
Maximization of production in carbonate reservoirs
Polymer flooding coreflood experiments
Surfactant-polymer flooding coreflood experiments
Alkali-surfactant-polymer flooding coreflood experiments
Field development planning
Decline-curve analysis
Chemical-enhanced oil recovery methods
Unconventional resources
Reserves estimation
Reservoir simulation modeling
Waterflood
Injection rates and injector location planning

Major Projects
Since arriving at D&M, Wang has worked on various projects, including field development planning of oil rim reservoirs. He conducted a benchmarking analysis to optimize oil rim development for a national oil company in Russia. Wang estimated the production profiles for several fields based on planned field development.
Wang worked on streamline surveillance modeling on several fields under waterflood operations in Russia. He evaluated the current waterflood performance and highlighted areas of oil potential. Wang made recommendations to the injector rates to focus water injection to higher performing injector-producer patterns.