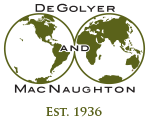 Consulatant mondial de l industrie petroliere

Cody S. Davis
Cody S. Davis joined DeGolyer and MacNaughton in 2013, after having served in the United States Army for 9 years as a Corps of Engineers Officer.
Davis graduated from the United States Military Academy at West Point, New York in 2004 with a bachelor's degree in mechanical engineering and from the Missouri University of Science and Technology at Rolla in 2009 with a master's degree in engineering management. He is a member of the Society of Petroleum Engineers.
Geographical Experience
Kazakhstan
Middle East
North Africa
Russia
Saudi Arabia
Ukraine
West Africa
Topical Areas of Expertise
Reservoir engineering
Routine core analysis
Engineering analysis
Full-cycle analysis
Reservoir simulation
Reserves and resources evaluation
Major Projects
With D&M, Davis has assisted in the evaluation of reservoir potential in the Middle East and North Africa. His experience includes utilizing routine core analysis, special core analysis, and incorporation of petrophysical parameters for reservoir model initialization.
Davis has working experience with PHDWin and OFM for reserves and resources evaluation, ECLIPSE, GEOX, and ACRES for reservoir simulation, and Petrel for reservoir modeling and log analysis.
In addition to reservoir studies and simulation, Davis has experience performing reserves and resources evaluations. Davis has performed evaluations using deterministic and probabilistic practices, with knowledge of both SEC and PRMS guidelines. Reserves and resources evaluations include conventional oil and gas fields in Kazakhstan, Russia, and Ukraine. Davis has experience working on prospective resources evaluation projects in the Middle East, for both onshore and offshore prospects. He has estimated oil and gas volumes using simulated production data analysis and following the guidelines of the PRMS.