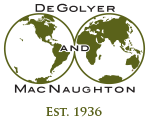 Consulatant mondial de l industrie petroliere

Diana M. Mancilla
Diana M. Mancilla joined DeGolyer and MacNaughton in 2019 as a senior engineer. Prior to joining D&M, Mancilla worked at Occidental Petroleum Corporation (OXY).
Mancilla graduated with honors from Universidad de America in Colombia in 2006 with a bachelor's degree in petroleum engineering. She also graduated from Heriot-Watt University in the United Kingdom in 2015 with a master's degree in reservoir engineering and earned a master's degree in business administration and big data from Universitat Politecnica de Cataluña – EAE Business School in Spain in 2019. She is a member of the Society of Petroleum Engineers and the European Association of Geoscientists and Engineers. She is fluent in Spanish and English. She was named Vice President of D&M in 2022.
Geographical Experience
Colombia
Ecuador
Mexico
United Kingdom
Topical Areas of Expertise
Reservoir simulation, modeling, characterization, and surveillance
Reserves and resources evaluations
Uncertainty analysis
Reservoir management
Data analytics
Business planning
Core analysis
Major Projects
As a project leader for OXY Colombia, Mancilla provided the technical development plan of new discoveries in the Llanos Basin. She worked with a multidisciplinary group of exploration and development professionals from OXY Houston and OXY Colombia to assess the fields with a detailed reservoir characterization and numerical models, providing sound portfolios to extend the lives of oil fields in environmentally sensitive areas.
She was also dedicated to the management of mature fields, reservoir characterization, study and surveillance of waterflood projects, drilling proposals (exploratory and infill), and workovers.