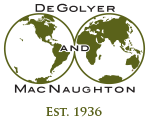 Consultoria Mundial de Petróleo e Gás

D&M Hosts Seminars and Executive Briefings
Agosto 9, 2017
D&M Hosts Seminars and Executive Briefings on Unconventional Reservoirs
Presentations Focused on Reservoir Management and Well Performance Analysis
Due to their unique nature, unconventional assets present challenges in estimating reserves and resources. Over the past ten years in North America, petroleum companies, operators, and financiers have funded and developed unconventional resources at a remarkable pace, yet key questions related to the accurate projection and forecast of cash flow and production remain, even as the industry advances ever longer lateral wells in stacked plays. Production from these resources is, by its nature, a combined function of reservoir/fluid properties, geology, and completions, and consequently, production forecasting is not a simple curve-fitting exercise.
In its 2017 Executive Briefing and companion Unconventional Short Course series, DeGolyer and MacNaughton (D&M) reviewed its approach to answering these questions as well as associated issues with reserves and resources estimation as raised by recent SEC letters and practice. The combined audience of over 150 executives was drawn from D&M's clients as well as non-clients and represented over 60% of the market value of all listed upstream oil and gas companies in North America. In addition, numerous privately held companies, investment banking entities, and North American and international sovereign wealth and private-equity firms, as well as the super-majors, were present. During the Executive Briefings, numerous insights were shared from D&M's independent annual examinations of over 40% of North American unconventional resources wells. D&M's methodology for evaluating unconventional reservoirs was shared in detail, including D&M's combination of production diagnostics, analytics, model-based analysis, and static reservoir and completion data.
"D&M's approach is unique, correct and very timely"-attendees at D&M's 2017 Unconventional Resources Executive Briefing
The general feedback from the executives present at these briefings has been that "D&M's [unconventional resources] approach is unique [among its peers], correct [technically], and very timely." Indeed, the use of D&M's approach was seen by these executives as applicable on a daily basis as opposed to purely during the reserves estimation cycle.
D&M's diagnostic-based approach is already used by D&M engineers to examine and more accurately estimate performance from unconventional resources wells. D&M engineers bring a unique body of knowledge to bear through the use of this consistent approach. It is anticipated that additional insights will be drawn from the continuing examination of such wells, especially as completion designs are further refined, evolve, and are projected to set new economic benchmarks for particular formations.
The companion Unconventional Short Course: "Well Performance Analysis and Forecasting in Unconventional Reservoirs" was delivered by Dr. Dilhan Ilk, who leads D&M's unconventional resources consulting activities. In this course, Dr. Ilk reviewed the theoretical foundations of the methodology used to analyze and forecast production. Examples of its application from major plays were reviewed in detail, and insights drawn from D&M's work were presented to enhance attendees' own ongoing work in unconventional resources. ​
One of the technologies D&M deploys to support its approach to unconventional resources is Kappa Engineering's Citrine Field Production Analysis Module (Citrine). This new module has been developed by Kappa Engineering in collaboration with D&M and enables the rapid loading of mass public, client, or simulation sources for the processing of multi-well data. Particularly suited to unconventional plays, Citrine uses visualization trend identification and multi-well comparison to enable users to fully understand and interpret field performance using diagnostics and decline-curve analysis. Click here to learn more .
if you are interested in having Dr. Ilk lead a private version of the Unconventional Short Course: "Well Performance Analysis and Forecasting in Unconventional Reservoirs" for your organization.
In addition to a 2017 Executive Briefing event on August 28 in Denver, D&M will conduct further executive briefings in future.
if you wish to be included in future events.
Dr. Dilhan Ilk, Vice President at D&M, is a leading authority on well performance analysis for unconventional reservoirs.   The primary presenter for each of the meetings, Dr. Ilk says many companies are overestimating the potential of unconventional wells or at least not looking realistically about the production lifecycle.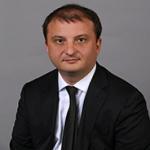 Previous
|
Next