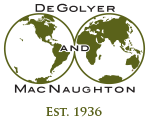 Worldwide Petroleum Consulting

Affiliates

In 2013, recognizing the industry's growing interest in chemical enhanced oil recovery (EOR) methodologies, DeGolyer and MacNaughton partnered with Ultimate EOR Services LLC, a firm specializing in chemical EOR laboratory and engineering services based in Austin, Texas. Founded by world-renowned experts, Ultimate EOR uses advanced laboratory equipment to conduct phase behavior and core flood laboratory and simulation studies for chemical EOR processes. Through its partnership with Ultimate EOR, as well as the expertise of its own staff, D&M is equipped to deliver a broad range of consulting, laboratory, and field development evaluation services to clients that are exploring chemical EOR strategies.


In 2012, DeGolyer and MacNaughton partnered with Kappa, a petroleum engineering software company, to collaborate in the development of Citrine, a field performance analysis software platform that handles large datasets. Citrine allows the user to handle, visualize, analyze, and forecast mass production data, particularly for unconventional plays.  Using Citrine, D&M offers a unique workflow for diagnosis, analysis, and forecasting production data in conventional and unconventional reservoirs.

Streamsim Technologies is an innovative company in dynamic reservoir modeling, having pioneered the use of streamlines for managing mature, conventional floods.  Streamsim offers software solutions for reservoir surveillance, flow simulation, history matching, and reservoir uncertainty modeling and forecasting. Streamsim was founded in 1997 and continues to pioneer technologies to improve forecasting and flood management by closely collaborating with its world-wide client basis and through its special R&D efforts with Stanford University.