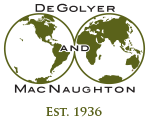 Worldwide Petroleum Consulting

Experience
DeGolyer and MacNaughton has completed reserves consulting projects for thousands of clients, including public and private petroleum companies, national oil companies, financial services companies, and purchasers of oil, natural gas, and other products in the upstream sector of the energy industry.
D&M has provided services to the following:
Major petroleum companies
Independent petroleum companies
National oil companies
Governments, including government ministries, agencies, and other entities
Financial Institutions, including commercial and investment banks
Transmission companies
Refining companies
Gas and LNG purchasers
Royalty owners/royalty trusts
Law firms
Estates
D&M has the most knowledgeable and experienced staff of professionals in the oil and gas consulting business. Its staff members use state-of-the-art petroleum software technology, as well as internal proprietary software, to meet the challenges of specific reservoirs and reservoir types. Many D&M professionals have prior work experience with upstream petroleum companies, including the majors and supermajors, foreign affiliates of majors, large and small independents, integrated services companies, and national oil and gas companies. For each project, an interdisciplinary team led by an experienced project manager works closely with the client to ensure the scope of the project is fully reviewed.