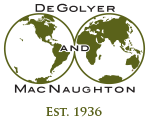 Worldwide Petroleum Consulting

The D&M Advantage
DeGolyer and MacNaughton was established by its founders on three principles:
Knowledge
Integrity
Service
In continued recognition of these founding principles, D&M is committed to:
Offering unbiased, independent counsel
Hiring technical experts who are devoted to service
Leveraging integrated teams to add breadth and depth to consulting engagements
Applying advanced computer technology
Focusing on employee retention to create continuity and consistency in service
Through decades of commitment to its founding philosophies, D&M has established itself as a firm with a reputation for offering unparalleled services to its clients.
D&M's staff is organized by geographic regions assuring that each team has a comprehensive understanding of the technical, political and economic challenges in the region.
D&M's thorough understanding of all major oil and gas fields around the globe and the geological stresses affecting those fields allows for unmatched advisement to clients.
D&M's expertise in industry technologies, as well as financial and regulatory issues, makes D&M a reliable outside counselor for reserves consulting projects.
D&M's extensive list of long-term clients illustrates D&M's reputation for knowledge, integrity, and service in the petroleum industry.