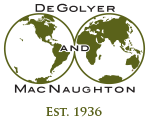 Worldwide Petroleum Consulting
Central Europe/Asia Division
During the past few years, DeGolyer and MacNaughton has built a significant presence in Russia and the Commonwealth of Independent States (CIS) such that D&M is arguably the current leader in reserves and resources evaluations in this sector of the world.
Through evaluations of over a thousand fields in Russia and hundreds of fields in Poland, Kazakhstan, Ukraine, Azerbaijan, Uzbekistan, and other countries within the region, D&M has developed experience and expertise that has proven invaluable to the most influential companies in Russia and the CIS. These evaluations range from major studies of large, mature fields to probabilistic assessments of entire portfolios of undrilled prospects. D&M has  offices in Moscow and Astana to facilitate efforts in Russia, Eastern Europe and parts of Asia.

Client Stories
Albania

D&M has evaluated a number of fields in Albania and has had the opportunity to see the interest in that country's hydrocarbon industry grow over the years. Most of the exploration and production has occurred in the western part of the country where D&M evaluations have been completed. The regional geology can be complex, with overthrusts and other tectonic history contributing to the accumulation of hydrocarbons.

Azerbaijan

D&M has evaluated the reserves in the key fields of Shah Deniz, Gunashli, Umid-Babek, Chirag, Absheron, and ACG for a number of clients, including the national oil company. D&M has also evaluated several large onshore fields, including the Kursenge and Karabagli fields. In total, D&M has evaluated dozens of fields, including all of the strategically important fields in the country, and remains current and active through ongoing projects.

Croatia

D&M has evaluated several of the gas fields that lie in Croatian Adriatic waters, including the Ivana and Ika fields.

Hungary

D&M has conducted numerous projects and evaluated several fields across Hungary for independent companies, as well as the national oil company. Some of the fields recently evaluated include the Hadjunanas, Tiszvasvari 6, and Turkeve-IV fields.

Kazakhstan

Over the past decade, D&M has worked for 27 companies and evaluated more than 150 fields in Kazakhstan. Through its office in Dallas and its branch office in Astana, the firm is currently working with the national oil company of Kazakhstan to assist in the establishment of more efficient development practices to maximize recovery and improve the classification of reserves and resources. In Astana, a full-time staff of 20 professional geologists, petrophysicists, and production, reservoir, and surface facility engineers are working with the national oil company and partners across Kazakhstan to enhance production and increase reserves and recovery factors through better well operations and completion design and better reservoir management practices. D&M staff members are also mentoring and demonstrating best practices with local staff.

Poland

D&M has evaluated the reserves for more than 250 oil and gas fields for the national oil and gas company in Poland. Some of the most important fields evaluated are the BMB, Lubiatow, Zalesie, and Pryemysl fields. In addition, D&M has conducted a study of hydrocarbon potential in four blocks in the Baltic and Podlasie Basins of Poland for foreign interests.

Russia

D&M has extensive experience working in Russia, having evaluated about 75 percent of the oil reserves and 90 percent of the gas reserves of the Russian Federation. No other consulting firm comes close to the experience or capabilities that D&M has in Russia. D&M's current client list includes many Russian oil and gas companies, large and small, as well as, many international companies that are active in Russia. D&M has fully staffed branch offices in Moscow and St. Petersburg, which, combined with the resources available at the Dallas office, have the capabilities to meet all of its clients' needs and to do so in compliance with Russian Federation laws regarding the handling of information that is considered State secret.

Serbia

D&M has evaluated the reserves of more than 20 oil and gas fields located across Serbia. The list of fields evaluated includes key strategic fields such as the Kikinda, Kikinda Varosh, Turija North, and Mokrin West fields.

Turkmenistan

D&M has performed a major study of the Dauletabad field in Turkmenistan. In addition, D&M performs annual reserves studies for numerous fields along the Amu Darya River, including Samandepe, Girsan, and many others. Several of the fields evaluated lie on the border between Turkmenistan and Uzbekistan. Much of the work D&M performs in Turkmenistan is conducted for foreign companies with interests in Turkmenistan.

Ukraine

D&M has evaluated the reserves of more than 100 fields located in every producing basin of Ukraine for several of the key energy companies active in the country. The fields evaluated for foreign companies with interests in Ukraine include the Kovilnenskoye, Lutsenkovskoye, and Kharkivtsevskoe-Sarsky fields. Fields evaluated for Ukrainian companies include some of the major strategic assets of the country.

Uzbekistan

In recent years, D&M has performed several studies related to significant financing projects for some of the major operators in Uzbekistan, focusing on key fields such as the Gadjak, Gumbalak, North Guzar, Dzharkkuduk-Yangi-Kyzylchu, and North Nishan fields. We are currently assessing the reserves in over 100 fields in the Amudarya basin and throughout Uzbekistan. We have a long-standing relationship with the national oil company, as well as several of the foreign and domestic companies that are active in the country.