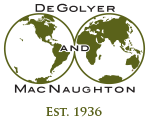 Worldwide Petroleum Consulting
Europe/Africa Division
DeGolyer and MacNaughton's Europe/Africa Division is responsible for projects in the North Sea, Europe, the Mediterranean, Africa, and the Middle East.
From studies of more than 200 fields in the harsh producing environment of the North Sea to evaluations of some of the world's largest oil and gas fields in the Middle East, DeGolyer and MacNaughton offers extensive regional experience and expertise in this part of the Eastern Hemisphere. D&M has conducted hundreds of reservoir evaluations in Africa involving detailed production forecasts, major reservoir simulation models, gas cycling projects, detailed development planning, and enhanced recovery investigations, as well as detailed gas certifications for several significant LNG plant projects in both Africa and the Middle East. In addition, D&M has evaluated fields throughout mainland Europe, and is the independent evaluator of choice for privatizations, public issuance of stock, Competent Person's Reports, and project finance support.
D&M's consistent performance, unsurpassed expertise, and respected reputation as an independent expert continue to attract international financial institutions, national oil companies, and international oil companies.

Client Stories
Algeria

D&M has been evaluating properties in Algeria for more than 60 years, acting as the primary petroleum advisor to the Algerian national oil company over that time. The firm has also worked with a significant number of the foreign partners that own and operate fields in Algeria. The firm has prepared reserves evaluations, integrated studies, production forecasts, appraisals, and prospective resources evaluations for Algerian assets. D&M has reviewed development plans proposed by international oil companies, participated in unitization meetings and in financial loan agreements, and assisted various companies in developing newly acquired licenses in the country. The firm has served as the reservoir advisor for the continued development of the giant Hassi R'Mel field and all of the other major gas-condensate fields in Algeria and is the petroleum advisor to the giant Hassi Messaoud field in the Sahara Desert of Algeria. D&M has also been involved in special country evaluations of every discovered field in Algeria at various intervals, giving the firm unmatched expertise in evaluating fields in Algeria.

Angola

The offshore area of Angola has been producing oil since 1968, when Cabinda Gulf began operations, and D&M has conducted appraisals in the Cabinda area since that time. The firm is familiar with the Albian mixed carbonate/clastic reservoirs of the Pinda Formation and the major clastic reservoirs of the Vermelha, Lago, Azul, Likouala, and Lucula Formations on the Angolan shelf. D&M has extensive experience with most of the Miocene discoveries in the Angolan deep water, including some of the deepest blocks at the frontier of development offshore Angola. D&M has forecast future production, capital expenditures, and operating costs for all of the offshore fields in Angola that are either producing or under development. The firm has examined geophysical data, well logs, production history, and the development plans for the offshore fields on behalf of the national oil company, as well as most of the other international oil companies operating in Angola during recent years.

Austria

Throughout its history, D&M has evaluated all of the fields discovered in Austria and is actively supporting evaluations for various companies, including Austria-based operators and their partners. Much of the work has been concentrated in the large accumulations of the Matzen area northeast of Vienna. These reservoirs tend to be shallow, multi-layered, and faulted; however, there are also complex deeper reservoirs that are overthrusted and fractured dolomites that present many challenges to evaluate. D&M's teams have also completed studies on large gas storage projects in Austria.

Bahrain

D&M has performed unconventional resources evaluations and has provided technical support for the selection of test locations, completion design of test wells, and evaluation of test results for a successful unconventional test program offshore Bahrain.

Bulgaria

D&M has had several opportunities to evaluate properties in Bulgaria, including gas developments and small oil operations. Partners involved in the financing of projects linking Bulgaria to Europe and Turkey have also been drawn to seek D&M's services.

Cameroon

D&M has evaluated LNG projects and provided independent evaluations of oil and gas reserves and resources in this West Africa nation bordering Nigeria, Congo, and Gabon. These evaluations have considered technical and economic parameters for the fields, sometimes in connection with projects in the neighboring countries.

Congo

D&M has extensive experience in both the Republic of Congo and Democratic Republic of Congo. D&M's clients include worldwide majors, as well as smaller operators, partners, and national companies. D&M's reports have included evaluations of all of the major fields in Congo. D&M's teams have had the opportunity to evaluate fields onshore and offshore (including recent deepwater discoveries) that produce from Cretaceous and Albian Formations. D&M experts have performed value appraisals, independent SEC and PRMS certifications, and independent evaluations supporting financing projects. Specific evaluations have included geophysical, geological, and engineering interpretation; probabilistic estimation of in-place oil and gas volumes; well and test design to increase potential recoverable volumes; and country-wide economic sensitivity analyses.

Denmark

D&M has been involved with the Danish oil and gas industry since its inception, providing assistance to the government with the first licensing rounds. Since then, its technical teams have been involved in evaluating all of the offshore fields in the North Sea for a wide range of clients. In addition, D&M has served as advisors for the largest Denmark-based producing company, from assisting in establishing its internal resources estimation system and its first publication of reserves and resources into the public domain, through its transition for sale to a private worldwide operator.

Egypt

D&M has been evaluating properties in Egypt for several decades, completing projects for most of the active operators and interest holders in the Western Desert, Gulf of Suez, Nile Delta, and offshore Mediterranean areas of Egypt. D&M continues to be involved with several active projects in various stages of completion in the region, including large new offshore gas discoveries. These projects encompass evaluation of oil and gas reserves, specialized prospective resources evaluations, project finance for processing plants and gathering facilities, development planning, and secondary recovery projects in several areas of the country.

Equatorial Guinea

D&M has been evaluating properties offshore Equatorial Guinea since the very early stages of appraisal and conceptual development. D&M's reserves appraisal experience in this area, on behalf of a variety of clients, has enabled the firm to gain an in-depth understanding of these complex reservoir systems as the fields mature and equipped D&M to support identification of additional exploitation opportunities. D&M has also performed geological studies and constructed geocellular models of reservoirs in the country for evaluation of development potential.

Ethiopia

D&M has completed evaluations of contingent resources for certain discoveries in the Ogaden Basin. These discoveries in the Cretaceous and Jurassic sections are located in the southern area of Ethiopia. While historically not an active petroleum area, recent discoveries and development in the region have heightened interest in several countries in this region.

France

D&M recently completed a major project focused on the Trois Fontaines Gas field and has completed other projects in years past in the Paris Basin for various parties. More recent activity includes reviewing unconventional resources potential and assisting in valuing potential losses due to license truncation.

Gabon

D&M has extensive experience in the evaluation and appraisal of reserves and resources both onshore and offshore Gabon. For more than 20 years, D&M has performed studies on every major field in Gabon on behalf of government agencies, the banking community, and major and independent oil companies. The firm participated in the initial assessment of the oil reserves in Gabon, the results of which formed the basis for the initial exploration licenses for the country. D&M continues to be active in evaluation in Gabon as additional exploration activities have expanded the country's resources base.

Germany

D&M has had the opportunity to evaluate properties in Germany for many decades following the Second World War. Such evaluations have been for prominent Germany-based petroleum companies, as well as other European and U.S. partners who have held interests in Germany. Evaluations have included annual evaluations for major international companies, specific field studies, independent evaluations to support financing collateral, and dispute resolutions. D&M personnel have experience in all of the geological provinces in Germany.

Ghana

D&M has completed multiple evaluations of the largest discoveries in offshore Ghana during the past 10 years, with our involvement including detailed subsurface studies as well as reserves/resources evaluations. These large, complex reservoirs require detailed analysis of geophysical, petrophysical, geological, and engineering data to properly assess their extent, productivity, and optimal development plans.  We expect to continue building our experience with these assets in the future through additional assignments for our clients.
D&M has also been involved in assisting in seismic exploration, designing of seismic processing workflows, seismic processing QC, building regional velocity models, building reservoir static models, and 4D seismic analysis in Ghana.

Iran

Though restrained by recent governmental sanctions and limitations on its activity there, D&M does have a history with evaluations in Iran, one of the more prolific hydrocarbon venues in the world. The largest gas field in the world, South Pars/North Dome Field, shared by Iran and Qatar, has been evaluated by D&M on multiple occasions. D&M's clients have included worldwide majors and national companies. D&M economists have gained experience in the unique licensing arrangements in this venue over the years and have developed proprietary programs to estimate net reserves and revenue from production. Historically, D&M has had opportunity to be involved with the earliest evaluations of Iran's hydrocarbon potential.

Iraq

D&M has performed evaluations of rehabilitation projects in middle and southern Iraq, as well as the newer discoveries in the Kurdistan region of northern Iraq. These evaluations involved sophisticated techniques, such as dynamic models and pressure transient analysis, to consider dual-porosity systems and complex recovery mechanisms. D&M has completed evaluations for appraisals, Competent Person's Reports, reservoir studies, and independent evaluations for field development and project financing.

Ireland

D&M has been involved in evaluations of the largest and most recently developed gas fields offshore Ireland. These evaluations have included gas deliverability analysis, tubular design impediments, and very detailed gas contract incorporation. The Triassic reservoirs are fairly straightforward in their structure, but can provide challenges in determining limits of productivity. As such, tools for evaluating pressure-bound systems are essential in these studies.

Italy

D&M has had the opportunity to work every province of oil and gas production and gas storage in Italy, including the prized Val d'Agri area in the Southern Apennines. Much of the production is mature, but areas such as Val d'Agri and offshore in the Adriatic have active exploration and appraisal projects ongoing. D&M has evaluated fields and discoveries for all of the major operators in Italy, as well as a number of smaller participants. D&M has been selected in numerous instances to evaluate a number of assets in Sicily, including the largest producing fields in the region.

Kenya

D&M has evaluated several resources opportunities in the Lamu Basin, including the Miocene reef targets.

Kuwait

D&M has significant experience in Kuwait and the Divided Zone, performing field development studies, reserves estimations, and prospective resources estimation in both onshore and offshore environments for the national oil company and other clients. All the major reservoir types have been evaluated by the firm's expert team of analysts. D&M has performed reserves evaluations, reservoir simulation analysis, and reservoir characterization studies for over 10 years for both government-owned and public oil and gas companies. D&M has also designed a chemical EOR pilot program for a heterogeneous reservoir in Kuwait.

Liberia

D&M has evaluated several resources opportunities in the Liberia-Sierra Leone Basin, including the Campanian-, Maastrichtian-, and Turonian-age targets.

Libya

D&M has performed studies in Libya since the 1960s. Initially, D&M assisted companies trying to obtain concessions. More recently, the firm's work has included reserves and resources assessments and project studies on behalf of Western clients that have interests in Libya. D&M has recently been involved in the assessment of resources potential in several of the undeveloped portions of the basins in Libya and has gained extensive expertise in the application of probabilistic techniques to support the estimation of resources volumes in these large, but sparsely drilled, undeveloped portions of the country. With recent interruptions in production and development, D&M evaluators have been requested to estimate the impact of delays, license extensions, and overall value gain and loss. These recent evaluations have involved diverse and integrated teams of technical and economic experts at D&M.
D&M has also completed several field development studies within the country of Libya. These studies considered the improvement of depletion and waterflood activities as well as the potential for EOR activities.

Mauritania

D&M has evaluated most of the fields in and off the coast of Mauritania, including some of the largest discoveries and developments. The fields can be complex and multi-layered, with significant productivity variations. Recent work includes evaluations of field developments for Competent Person's Reports, technical studies, bank financing, and general reserves reporting compliance.

Morocco

D&M has evaluated several resources opportunities in the Tarfaya and Essaouira Basins, including the Miocene-, Jurassic-, and Cretaceous-age targets.

Mozambique

D&M has performed reservoir and reserves certification studies onshore and offshore of Mozambique for several clients, including the national oil company of Mozambique. The largest and most recent offshore discoveries in Blocks 1 and 4 have been, and continue to be, evaluated by D&M experts. The firm has also completed independent geological and engineering studies of the large onshore Pande and Temane gas fields to support financing and field development. These studies included highly detailed evaluations of the geophysics, geology, petrophysics, and engineering of multiple clastic reservoirs. D&M has also worked with the government of Mozambique to assist with licensing rounds for certain offshore assets.

Namibia

D&M has evaluated a number of prospective resources projects in Namibia, where increasing interest in the reservoirs correlative to Brazil and the east coast of South America has led companies to consider exploratory drilling.

Netherlands

D&M has completed a number of evaluations of fields offshore the Netherlands. As a component of the North Sea network of hydrocarbon accumulations, the reservoirs and fields offshore the Netherlands have similar geological characteristics to the rest of the North Sea. However, the accumulations tend to be compartmentalized and multi-layered. As such, recovery evaluations can be challenging. D&M has been able to competently estimate reserves for many of the interest holders there that have been relied upon by regulators, banks, and joint interest holders. The evaluations completed by D&M have been part of large portfolio evaluations, transactional studies, and specific field studies.

Nigeria

D&M has decades of experience in Nigeria. In recent years, D&M has evaluated most of the fields in the Niger Delta. The firm has completed numerous gas certification studies on behalf of major international oil companies and joint ventures in support of investment in the monetization of Nigeria's gas reserves and resources through the construction and expansion of various liquefied natural gas plants. The understanding of the Nigerian gas business gained from these studies has enhanced D&M's ability to serve clients in Nigeria, including Nigerian companies, major international oil companies, prominent members of the international financial community, and government owned companies. As development activity has migrated offshore to deeper water, D&M's evaluation activity has included many of the mega-projects associated with these deepwater fields. More recently, Nigerian companies have asked D&M to evaluate holdings, assist them in identifying opportunities, and to help them produce financial reports that will be compliant and acceptable to the financial markets.

Norway

D&M has had the opportunity to work almost every field and discovery offshore Norway for a significant number of varied clients. Ongoing SEC evaluations for foreign partners introduced D&M to the venue when the first discoveries were made. D&M's early involvement lead to the firm being asked to perform a comprehensive evaluation of all of the assets of the largest holder of rights offshore Norway in support of an initial public offering of stock. On a continuous and ongoing basis, D&M teams evaluate discoveries, fields, and portfolios for assets offshore Norway.

Oman

D&M has performed studies and evaluations in Oman since the 1970s. The firm prepared several reserves evaluations and production forecasts for both the government of Oman and several operating companies in the country. These studies were comprehensive and covered the entire country. In recent years, D&M has maintained an active role in the evaluation of reserves that supply the Oman liquefied natural gas plant. This plant initiated service in mid-2000, and D&M completes evaluations at certain milestones and changes, such as gas plant expansions.

Qatar

D&M has conducted numerous studies on fields in Qatar. It has assisted many international oil companies in other oil field rehabilitation projects, as well as the southern part of the largest gas accumulation in the world, the North Dome field.
The North Dome field offshore Qatar is gas productive in the deep, thick, and generally low permeability Khuff sand. D&M has performed multiple studies, spaced several years apart, on this concession. The work done by D&M has included annual reserves updates of the selected blocks in this field for multinational oil companies.

Romania

D&M has evaluated most of the fields in Romania, including fields in the northern Transylvanian gas region, as well as the oil and gas fields in the southern part of the country. Many of the oldest existing petroleum-producing fields in the world are located in Romania, and some are undergoing tertiary methods of recovery, including firefloods, steamfloods, and polymer-modified waterfloods. The reservoirs can be extremely laminated and present challenges in evaluation of potential future recovery in the context of current field performance and original volume in place. D&M has had the opportunity to work with the largest operators in Romania as well as foreign joint-venture partners.

Saudi Arabia

Some of D&M's earliest work involved evaluations in the Middle East, including Saudi Arabia. D&M originally assessed the hydrocarbon potential (ca. 1943) that would eventually be realized in Saudi Arabia. D&M has recently had the opportunity to assess the world's largest and most prolific reservoirs as part of an in-depth independent evaluation of the country's reserves. Each reservoir was the subject of detailed analysis utilizing more than 60 geophysicists, petrophysicists, geologists, simulation engineers, reserves engineering specialists, and economists.  The studies included a number of on-site field trips during the course of the work.  Ongoing projects in the country include providing analysis, training, and advisory on the evaluation of conventional and unconventional reservoirs, as well as future updates of reserves estimates.

Senegal

D&M has performed geophysical studies for offshore Senegal exploration, including QC of seismic processing and building of regional velocity models.

South Africa

D&M has evaluated several resources opportunities in the Algoa, Gamtoos, and Orange Basins, including the Cretaceous-age targets.

Spain

Evaluations of fields in Spain have been part of the D&M work portfolio for decades. D&M teams have evaluated offshore oil fields, onshore gas storage fields, and other assets in Spain. The firm has worked with Spanish-based rights holders and continues to work on an ongoing basis with the two most well-known oil and gas companies headquartered in Madrid, assisting one of them in their initial public offering.

Syria

D&M has been involved for many years with reserves evaluations in Syria. D&M has performed annual reviews of 35 oil fields in several key production sharing contracts in northeastern Syria. Much of the production is found in undersaturated oil zones, such as the Rutbah and Mulussa reservoirs. Associated gas from the oil fields has also been evaluated as part of gas plant projects.

Tanzania

D&M has performed reservoir and reserves certification studies onshore and offshore Tanzania for several clients. A number of the larger offshore discoveries have been evaluated by D&M experts. These studies included highly detailed evaluations of the geophysics, geology, petrophysics, and engineering of multiple clastic reservoirs.

Tunisia

D&M has conducted studies on most of the major oil and gas fields found onshore and offshore Tunisia, including the Didon, Ashtart, Adam, and other fields. Recent work has included the evaluation of discovered and undiscovered resources in the more remote areas of the country. D&M clients in Tunisia have included companies that operate the fields there, as well as partners in those developments.

Turkey

D&M was the first company to independently evaluate countrywide reserves and resources in Turkey. In addition, D&M has completed numerous projects in Turkey for other operators in the Thrace Basin, the Southeast Basin, and the Ortakoy area. D&M has a strong understanding of the producing environments in Turkey and the region, including physical, technical, monetary, and regulatory/tax regimes. D&M has interacted with field operations, producing company management, and financial participants in many of the field evaluations.

Uganda

D&M has had the recent opportunity to evaluate prospective resources as well as exploratory drilling results in Uganda. The geology is complex, and there are challenges to the development and transportation planned in the country.

United Arab Emirates

D&M has prepared evaluations on numerous fields in the United Arab Emirates specifically within the emirates of  Abu Dhabi, Dubai, Sharjah, and Ras al Khaimah and Sharjah.   The firm has evaluated reserves, prepared Competent Person's Reports, prepared development plans, and  assisted in concession reviews for several operators and interest holders within some of the largest fields in the country, including the Arzanah, Abu al Bukhoosh, and Mubarek fields.  For most of this decade, D&M has also conducted annual reserves evaluations of several large producing fields offshore from Abu Dhabi in addition to numerous smaller fields in the vicinity.

United Kingdom

D&M has conducted studies and petroleum reserves/resources evaluations in the North Sea, including the United Kingdom and adjacent venues, for almost 50 years. From those first years, D&M's experience in the United Kingdom has broadened and deepened, and D&M is now considered an expert on the North Sea by clients worldwide. Since the early 1970s, D&M has conducted studies on almost every North Sea field offshore United Kingdom.
The firm has ongoing studies in virtually every area of the region for clients ranging from major companies to midsize independents to small niche operators. D&M also currently evaluates property portfolios on an annual basis for the largest operators in the North Sea. In fact, the firm has evaluated reserves in approximately 90 percent of the offshore North Sea blocks that have United Kingdom production reserves. Several large public listings involving fields offshore United Kingdom have been completed by D&M in recent years.
Given the firm's vast experience evaluating shale plays in the U.S. and elsewhere, D&M is well positioned to support the developing efforts to tap shale resources in the United Kingdom. D&M teams are being engaged to evaluate these resources for multiple clients.

Yemen

D&M has been involved in Yemen since before the first commercial field began production in 1986. D&M has worked with most every foreign oil company with commercial production in Yemen and has created field development reports for presentation to the government and financial institutions. The firm has performed a wide variety of tasks including reserves analysis, exploration potential, detailed field development plans, field inspections, and a nationwide assessment of gas resources.
D&M's extensive knowledge of Yemen led to the selection of the firm to perform a gas reserves and deliverability study for the largest fields in the country. This report was used to assess the commerciality of building a pipeline from the producing area to the coast for export as liquefied natural gas.