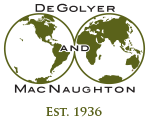 Worldwide Petroleum Consulting
North America Division
D&M's North America Division is responsible for studies and evaluations both on and offshore of the lower 48 states, Alaska, and Canada.
The North America Division reviews thousands of petroleum properties annually. The majority of these projects pertain to reserves and resources evaluations for oil and gas assets. Given the turbulence in the oil and gas industry, the North America Division is heavily engaged in acquisition assistance, divestiture assistance, and fair market value studies.
The North America Division has completed hundreds of studies on unconventional resources across the region. For example, D&M petroleum engineers and geoscientists have evaluated approximately half of the unconventional wells that have been drilled in North America. The firm has developed proprietary tools and workflows that support enhanced evaluation of unconventional assets, specifically well performance.
The client base for the North America Division consists of domestic exploration and production companies as well as international players that have invested in North American oil and gas operations. The firm also serves private equity firms, lenders, and midstream operations companies.
In support of merger and acquisition efforts, experts within the North America Division frequently help sellers evaluate offers. When D&M is supporting buyers, representatives will attend data rooms and help buyers evaluate the sellers' data and development plans. D&M's overall range of support for clients encompasses technical and economic analyses and even extends to making presentations to boards and other stakeholders on behalf of clients. D&M experts help both buyers and sellers better understand the cost of participation in sales transactions and their potential return on investment. Team members average 20 years of experience in the industry, providing clients with professional opinions that are backed by a solid understanding of the market.

Client Stories
Canada

D&M has worked every major oil and gas basin in Canada, and the majority of producing formations, including many unconventional shales and oil sands, as well as eastern Canada offshore discoveries. D&M is able to deliver National Instrument 51-101 reports that are prepared in accordance with Canadian regulations for companies traded on Canadian stock exchanges.

Greenland

While no active exploration or production efforts are underway in Greenland, D&M was tasked with examining several prospective assets. This work relied on the extensive prospective resources evaluation work D&M has performed worldwide.

United States

Since the founding of the firm in 1936, D&M's reputation has been built on steady and broad involvement in the United States petroleum industry, focusing on reserves consulting and a wide variety of technical studies. The firm has analyzed fields in every basin in the United States, including the majority of conventional and unconventional formations. With personnel in Dallas and Houston, D&M has completed assignments of every size, from major domestic exploration companies with thousands of producing wells to small companies with only one or two wells. D&M's specialized work teams have developed unique work flows and methodologies to evaluate clients' interests in reserves and resources in unconventional reservoirs. In addition to serving exploration and production companies, D&M has also worked with financial services companies, investment banks, and private equity firms that have interests in United States assets. D&M maintains active engagement with the United States Securities and Exchange Commission (SEC), Society of Petroleum Engineers (SPE), and Society of Petroleum Evaluation Engineers (SPEE) and provides clients with SEC- and SPE-style reports in compliance with the regulations and guidance of each entity.